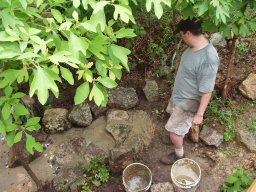 This was a quick trip to The Great Smoky Mountain Peace Pagoda. We had just finished the Stop the Bombs International Peace Walk. And after a short rest at Peace Hostel Amelia Tuka needed to get to the Peace Pagoda for the work camp and then back to Atlanta with Denise and Utsumi to catch his flight back to Japan that was set up for the 1st of June.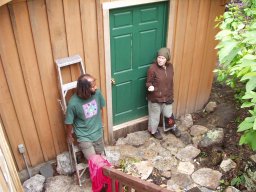 It was nice to see everyone but I also had a nagging feeling that I should be staying and helping out for the week. All the usual suspects were there. Denise, Utsumi, Kell, Mindy, Jeff, Megu and Mario a small crew but a good one.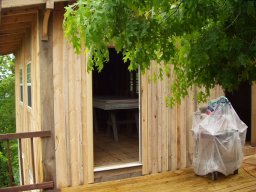 The guesthouse is almost finished and by the time I finish writing this it probably will be. Next is the add on the temple to get ready for the year ceremony and the stonework down to the bathhouse is coming along beautifully. The other update and most exciting is that they have started clearing the top of the mountain for the actual Peace Pagoda. It will be a magnificent site.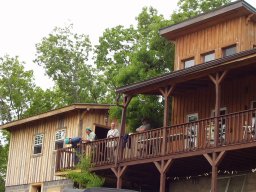 Well since we were in the area we decided that after we dropped off Tuka and a short visit with everyone else that had come in for the work camp Marcus, KA, Bilbo and I would head back into Knoxville meet up with Ralph and Lisa and join everyone for the Sunday night Prayer vigil at Y-12. We all felt like we had really come full circle. We started the walk from Y-12 and now we are back.
Bilbo Taylor
Sister Denise
Jim Toren
"K A"
Kell and Mindy
Marcus Atkinson
Mario
Megumi Kobayashi
Takashige Arai
Brother Utsumi
Home