Although most of our group of peace pilgrims had been to the Peace Pagoda on a number of occasions, either on walks or work camps, this is the first recorded visit. My son, Jim Toren
, wanted to start recording the FootPrints For Peace members on trips such as visiting the Peace Pagoda.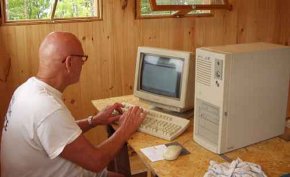 Our buddy Patrick Liteky, was spending some time there before heading home and wanted to work on a screen play but needed a computer with a word processor. So Jim and I decided to lend him one of ours. Thus, in June of 2003, the first recorded visit to the Great Smoky Mountains Peace Pagoda.

Over to your right you can check out other visits and visitors and if you are interested please check out the home site for the Nipponzan Myohoji, Atlanta Dojo Great Smoky Mountains Peace Pagoda for furthur contact information and other details.
Stop The Bombs Walkers
May 5th, 2005
FootPrints For Peace
August 7th, 2004
Home