We arrived at the peace pagoda a few days early on the night of the 13th. We enjoyed a relaxing night with Utsumi and Denise and a good soaking in the Othuro (the bath) we all headed to bed early so we could be ready to start work the next day.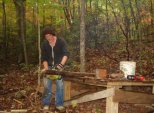 The first day was largely spent getting ready for the weekend when most everyone would be arriving. Utsumi and Denise went to the lumberyard to pick up more rough-cut lumber that we would need. Marcus and me spent the morning extending the tent platforms.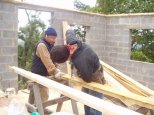 After that we ate lunch during lunch we talked about where we needed to be by the time everyone got here so we could put up the walls when we had the most people. After lunch we set out to finish the flooring on the first floor. We finished up around 7pm. had dinner and took turns going into the bath and called it a night.

Day two started as it always does with Morning Prayer and then breakfast during breakfast talking about what we need to get accomplished today. There are always good conversations during the meals. Catching up on our lives and whom we have been in contact with. Today was going to be a big day we had to place the top cap set the joist and lay down the sub floor. One bonus is that we know more people are coming today. By lunch we had the top cap on and the main support beam in and a few joist cut and ready a great start of the day. We had a visit from Mindy today and Bear the dog they couldn't stay long because Bear was sick and has to have treatments; Bear is just a sweet lovable dog and he belongs to Kell and Mindy some good friends of ours. Unfortunately Bear kidneys are shutting down and all Kell and Mindy can do is make him as comfortable as possible so some good thoughts and prayers for them.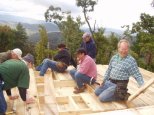 After lunch we finished the joist and started the flooring. About 1:30 - 2:00 Jun-san, Tucka and another friend showed up. Everyone pitched in and by the end of the day the floor was finished and we were ready to start the walls tomorrow.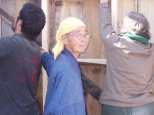 Around 4:00 Beth and Walter showed up and a little later Amanda showed up tomorrow should be a great day. After evening prayer and dinner we all sat around the Kitchen catching up and getting a mailer together for the up coming walk to the SOA that will start on November 12th.

Day three brought Paul and his family, Jon and Larry, Rick, Jim and Ray Hearne we had a full house. The game plan was to finish two walls today. Steve came about mid morning and I took a break from building walls and we had our first "official" meeting for a upcoming walk Stop the Bombs International Peace Pilgrimage starting March 12th 2005 at the Y-12 National Security Facility in Oakridge TN to the UN in New York for the Nuclear Non- Proliferation Treaty Meeting May 2nd 2005. The meeting went well and we are forming quite a impressive group of people and groups to support the walk. Nipponzan Myohoji, International Peace Pilgrims, Mayors for Peace and FootPrints for Peace so far Sunday we will find out for sure about OREPA.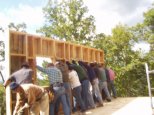 We have a tentative route and dates, after the meeting it was back to building walls. We got the first one up and then it was lunchtime meal times are great at the temple you can sit on the deck and look out over the Smokey Mountains you can't ask for a more beautiful view. After lunch it was back at it we finished up the second wall around four oclock and called it a day.
After evening prayer my phone rang and it was my wife Julie she I took the 4wd vehicle and went down to the bottom of the hill and picked her up and we joined in with dinner and everyone started to visit.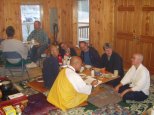 We had so many people we actually had to set up tables in the temple so we could all eat together it was great. Some of us had decided that after we completed the 4th wall tomorrow we would leave around 3:30 and on our way home we would go to the y-12 plant and join some other friends of ours from OREPA for a gathering at the gates.


Day four started as always and we got working. The fourth wall was completed around two oclock we had accomplished quite a bit of work in four day's and Utsumi, Denise, Rick and a few other people were staying to work for a few more day's so I would imagine that the next time I go down the roof will be done and we will have a really nice guest house to stay in. Every one that was leaving started to take showers. And of course it took us all about 2 hours to say goodbye to everyone. Then Marcus, Steve, Jun-san, Julie and myself were off for Oak Ridge to see more friends.
Denise
Jim Toren
Jon Blickenstaff
Jules Toren
Jun San
Larry Crane
Marcus Atkinson
Ray Hearne
Steve Leeper
Utsumi
Home