On July 6th, 2004 I received the following email from Marcus Atkinson:

Hi there ...
How are you all doing....
Are you running to Y12 this year.... Please give our love to
everyone there....
I am getting some crazy ideas to walk from Y12 to the Nuclear
non proliferation treaty talks at the UN building in may....
What do you think!!!!!

Not much time to write now ...
Talk to you all later...

Love
Marcus

Well of course I thought he was crazy. He just finished a 9 month walk from Roxby Downs in Australia to Hiroshima Japan and now he wanted to do another one. Of course this one was only two or three months so I thought it wouldn't be a problem for Marcus but I still thought he was crazy!

My son Jim Toren, who is the co-founder of FootPrints For Peace, and I had a few laughs talking about it but we did decide that if Marcus was going to try to pull this off we would help him in any way we could.

I put it on the back burner for some time and then low and behold on October the 9th, 2004 Marcus shows up at Peace Hostel Amelia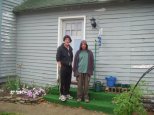 with a couple of friends and the next thing you know he and I come up with an idea to form a coalition of like minded folks we know to organize for this walk. We called this entity the International Coalition For A Nuclear Free Future. Marcus had already recruited Jim and FootPrints For Peace to act as organizer for this walk. Peacemakers Jon Blickenstaff and Larry Crane were the first volunteers to do the route contacting.

So that's how it all started! I guess the whole bunch of us are as crazy as Marcus! But then again maybe we are not the crazy ones, eh?