The Peace Bus had broken down on a trip to Minnesota. Fortunately I had a good friend who lived close to Pipe Stone, where it had broken down, and he let me store it there until I could arrange to come up and get it.
In August, 2004, my running mates, Jon Burkindine and Terry Stagman, both members of the FootPrints For Peace core group, and I planned to go get the bus. Terry was able to arrange for the use of a trailer and Jon had the truck so after we got all the tools and equipment together we set off on the rescue mission.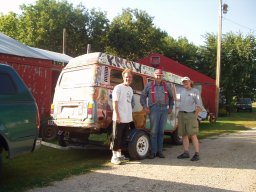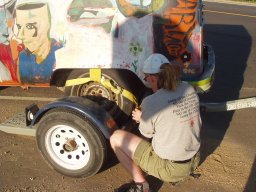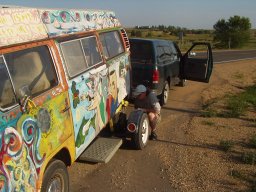 After we picked up the trailer rig that Terry set up for us he headed home while Jon and I headed for Pipe Stone. Needless to say it was a 'loooong' drive. We rested a little, hooked up the Peace Bus and headed South. We did have a little problem! The bus was sliding all over the place and we had to stop and tie the wheels down so they wouldn't wooble back and forth. Not fun! Once we achieved lock down we made it the rest of the back ok.


The plan was to take the Bus to Jon Blickenstaff's barn where we would have the room to work on it. The transmission was the problem and I either had to get another one or re-build it. At any rate we made it back, tired, weary, sweaty and dirty but happy. The Peace Bus was home!
Profile