On Sunday evenings at 5PM there is a prayer vigil held at Y12 in Oak Ridge Tennessee. For quite some time now Erik Johnson, his wife Libby, Ralph Hutchison and his wife Lissa Mcleod as well as a goodly number of other concerned citizens have been holding this prayer vigil.

Jules and I were working out at the Great Smoky Mountains Peace Pagoda workcamp this week and decided to attend the vigil along with Marcus Atkinson who was with us. Since we had known most of the folks there for some years it was a special gathering for us. Marcus, who is from Australia, had made many friends including Erik, Libby, Lissa and Ralph during his prior visits to this area. He was very happy to see them all again as well as taking part in the prayer vigil.

We also made a new friend, Steve Leeper. His picture is on the bottom right. Steve is on assignment by Mayors for Peace out of Hiroshima Japan. He was very excited to meet all of us especially since we have in common a strong desire to eliminate nuclear weapons from the face of the earth. Steve joined our Peacemaker group and I am sure that he will be adding his voice to our message for peace.


As usual it was difficult to leave this group of folks. I couldn't help but snap one last picture of Ralph, standing where the "blue line" is usually put up on protest day, gazing up toward the guard house at the entrance to Y12 and undoubtedly praying for this to be banished from the face of the earth, not only here, but everywhere it's evilness exists.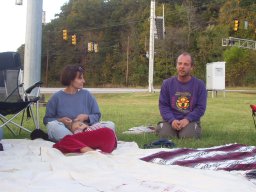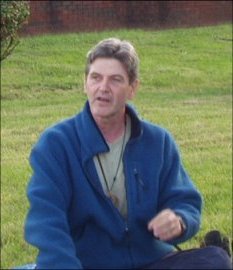 Erik Johnson
Jim Toren
Jules Toren
Jun San
Libby Johnson
Lissa McLeod
Marcus Atkinson
Ralph Hutchison
Steve Leeper