Glossary
Mission Statement
Schedule
Itinerary
Other Information
Site Index
Photo Album
Latest Update
Participants
Home

Brother Utsumi and Sister Denise arrived at Bissell Park having driven from Atlanta. The Nipponzan Myohoji contingent was all present and accounted for. Steve Leeper, Mayors for Peace Hiroshima, also arrived and that was the last organization representative we needed to be all present.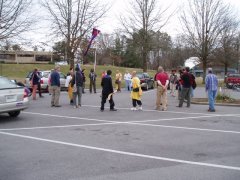 We then formed our familiar circle and we all introduced ourselves to each other going around the circle one after another. Some comments were made by those who wished to make statements and the we went around the circle again greeting each other with a handshake or a hug or both. When this was over we were ready to walk!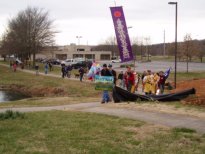 The actual walk is scheduled to begin tomorrow, Monday the 13th of March. The walkers and support people began gathering earlier this week and by today most if not all those going along had arrived. The organizers decided to take part in the Sunday Evening Prayer Vigil that takes place every Sunday evening during the year.


So after the group gathered at Bissell Park they walked to the gates of Y12 where the vigil is to take place. You can see more details about the vigil by clicking Sunday Evening Prayer Vigil.
Day 1
Day 3
Nuclear Time-Line

Echoes