Glossary
Mission Statement
Schedule
Itinerary
Other Information
Site Index
Photo Album
Latest Update
Participants
Home
The First Steps



The morning was crisp, but clear as we awoke just before 5am, many still weary from traveling, but excited to begin the Pilgrimage from Oak Ridge to New York. We had arrived from Australia, Austria, Japan, Vietnam and all over the United States- gathering at y-12 to explore and express our fear, rage and hope.

The y-12 plant at Oak Ridge is the only full scale nuclear weapons manufacturing plant left in the US, and it was here that uranium was enriched for the "Little Boy" bomb which destroyed Hiroshima. The plant has rendered the surrounding environment toxic, spilling mercury into the creek and dividing local communities who either earn their livelihood from , or hold weekly vigils in protest of the facility's continued existence.

Past the arbitrary "blue line" (which entails immediate arrest for crossing) and behind the barbed gates of the plant, the entire nuclear arsenal of the US is being steadily upgraded, extending the life of warheads for another 100 years. This is in DIRECT violation of the Nuclear Non-Proliferation treaty, of which America is one of 188 signatory countries. Brought into force in 1970, signatory nations agreed not to develop or build any more nuclear weapons and the 5 declared nuclear nations pledged to disarm "at the earliest possible date".

We watched the workers trickling in to begin their day. We stood as witness to their participation in creating and maintaining weapons of mass destruction, used by the US to terrorise and bully the world. Members of Nipponzan Myohoji buddhist order drummed and chanted, while other walkers held flags and sacred objects given by Australian Aboriginal elders, Mohawk Warriors, Buan anti-nuclear activists (South Korea) and other friends, displaying a variety of colourful peace and anti-nuclear symbols.

Our morning circle was cleansed by Billy with a Native American smudging ceremony , then all walkers were invited to offer words of intention or vision for the journey ahead. It is here where we learnt each others reasons for walking , gaining strength for the journey through our common (and complimentary) ideas and ideals.

Local media arrived to interview the walkers as peace cranes were being tied to the barbed wire trapping the polluted creek. This year is the 60th anniversary of the atomic bombings, and origami cranes are a reminder of the hundreds of thousands of Japanese men, women, children and babies who were incinerated in the one million degree celcius explosion. (1)

The first day on the road was both challenging and exciting, a test for blister prone areas and effectiveness of our wet weather gear.....with walkers ranging in age from 8 to 86, we marched strongly towards Knoxville, the first steps taken of a long journey ahead.

Nat

(1) In Japanese folklore, a thousand folded paper cranes will fly away to grant you a wish. A Hiroshima born girl named Sadako was 2 years old when the A-bomb was dropped, but remained well until she developed leukemia at age 12. She began folding cranes from any paper she could salvage, wishing with each that no more children should suffer the devastating effects of war. Sadako died after 644 cranes, but her classmates continued her mission to reach 1000 and immortalised her vision as a statue in the Hiroshima Peace Park.
Day 2
Day 4
Nuclear Time-Line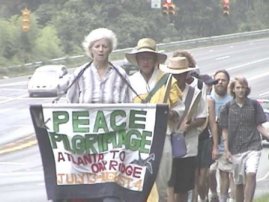 Echoes