Glossary
Mission Statement
Schedule
Itinerary
Other Information
Index
Photo Album
Latest Update
Participants
Home
Even though we walked to Atkins we stayed in the town before called Marion. We had a great nights rest at a two storey house across the road from the United Methodist Church. The house was graciously provided by the Church Leader Denton Stanley and his congregation.

It was a much needed sanctuary, as the weather has been bad and the walking tough. Spring weather is so unpredictable in these parts, rain, cold and sunshine in one day... the wet brings blistered feet. However this night was filled with good cheer and the night was warm as I sat on the porch watchig the sun set and the full moon rise over the mountains. Many of the walkers attended the evening service at the church and celebrated Easter Saturday with the good people from the Church and listened to the sermon delivered by Father Stanley.

I am amazed at the generosity of the various Churches that we have come across, mostly we are being hosted by different Christian groups. Walking through this reigion called the 'Bible Belt' I am amazed at the amount of Churches... we must pass ten or twenty a day . It is hard to imagine there are enough people to fill them, but this religion runs deep with the Christian Faith.

In the morning we shuttle forward to where we stopped walking to continue through to Wytheville, to stay with the folk of the Holy Trinity Lutheran Church. The walking was pretty good, it rained in the morning but fined up by the afternoon.

Along the way we passed many houses, people were on their porches waving at the passing parade. I guess they wouldn't see something like this everyday. In this reigion of poor working class people, we are a source for curiosity and amusement and hopefully education. Many people stop to talk and are shocked that we are walking all that way, most are pleased to hear what we are doing. We get the occasional Red Neck hassling us out but they are few and far between.

These are the people we are walking for, the uninformed cogs that keep this War Machine turning. Filled with national pride, they are blissfully unaware of the realities of the outside world and that's the way that the powers that be hold power. Our greatest weapon is to educate the 'Un-converted' masses, so that the revolution becomes an evolution of spirtit and ideals. I hope we are playing a role in this process as we walk to New York.

That evening we stayed with the Holy Trinity Lutheran Church, and rested well in the school building. In the morning some walkers attended the Dawn service for Easter Sunday and were treated to a breakfeast of Bacon and Eggs by the people of the Church. Food and hospitality greatly appreciated as we have a 20 mile day ahead.

"Nat"
Day 14
Day 16
Wytheville Hosts
Nuclear Time-Line
Community Response
Post Cards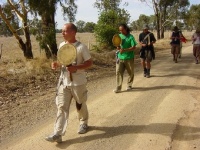 Echoes