Glossary
Mission Statement
Schedule
Itinerary
Other Information
Index
Photo Album
Latest Update
Participants
Home
Once again we set off at 7.30am and said good bye to our friendly hosts at the Mennonite Church. We had a great overnight stay with these friendly people, it is always great to meet and share with new people.


The weather as usual is changeable and we are prepared for all occasions, in the duration of days walking you can change from, gloves and hats to shorts and T-shirts. Spring weather is really putting us to the test, but we are all managing to cope pretty well. We have a short 19 miles to walk today to the Unity Church in Roanoke, where we will spend the night.

The days walking goes smoothly, and we seem to have got into a rhythm, the momentum of what we are doing seems to pull us along, every step closer to New York. The daily grind of the walk gives you lots of time to think and many questions and answers arise. Doing this sort of work, you realize so much about yourself....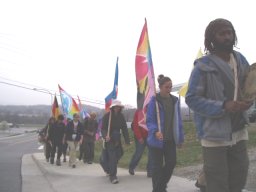 In fact you have to deal with all the emotions that you have inside you. Walking for peace doesn't always mean you are at peace, it is more a lesson in peace and some times a hard lesson! It is peace in practice, breaking old conditioning and finding a new path.... If we are out to change the world, then the first change is within yourself.

We finally made it to the Unity Church in Roanoke, for our overnight stay with our new friends.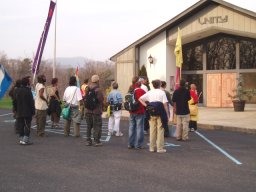 The church is set on top of a hill and is a very beautiful and open place... just like our new hosts. We shared a meal with many of the folk from the congregation, and spent many hours talking and sharing stories and new cultures with each other. I feel happy and relaxed as I drift off to sleep that night, and wonder what the next few days will bring.

Bilbo Taylor
Day 19
Day 21
Nuclear Time-Line
Community Response
Post Cards