Glossary
Mission Statement
Schedule
Itinerary
Other Information
Index
Photo Album
Latest Update
Participants
Home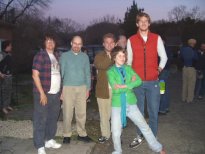 It was rather late in the evening when dinner was brought forth and the folks from Food Not Bombs supplied the greater portion of the meal. I recognized one of the guys from Food Not Bombs because I had seen him before at the Action At Y12 2004. If you view the action he is on the left. I finally was able to find out the name of this person. It was Martin Stephens. While I was talking to Martin he gave me a flyer that described the Food Not Bombs organization that he was involved with. All in all their were 5 people from Food Not Bombs. I asked them all why they work for Food Not Bombs and this is what they told me:

"It makes happiness by helping people out". - Noah

"This is a direct protest to hunger. It makes sense to gather and share because so much is available". - Madeline

"I feel a lot of food is wasted. 100 yards from any house you can find hungry people. - Emerson

"Each week we cook for the homeless. We attempt to raise society's conscienceness. Also remember, the homeless need not only food but respect". - Bob

Keep up the good work Food Not Bombs. And thanks for your help and support not only for this walk but the day to day work you do for humanity.