The Drop-In Center on Sycolin Road in Leesburg opened its doors in February 2004. On the coldest nights, when all community shelters are filled, it will function as a safety net for men and women who are without shelter for the night (known as the Warming Center). By day, it is designed to help restore dignity and hope to people who are struggling to get back on their feet. The center currently provides guests with case management, access to mail boxes, storage lockers, and telephone, fax, Internet, tools that are critical in a job search. More basically, the center provides laundry and shower facilities, toothbrushes and warm socks. Last year Good Shepherd took someone in for the night 26 times and during the day provided 125 meals, 184 showers, 68 laundries, 53 faxes and 95 requests to have internet access.

Besides the Drop In Center that you visited, Good Shepherd Alliance also manages an 18 bed emergency walk-in women's and family shelter in Lucketts Va., a 13 bed men's shelter in Ashburn and a 5,000 square foot Thrift Store in Sterling.

GSA is the very important first step in the continuous process of transitioning our homeless residents back into the mainstream workforce. In addition to addressing the basic needs for emergency housing, food, clothing and transportation, GSA makes use of an individual's time at the shelter to help them become stable enough to live on their own. The homeless often come from dysfunctional families and unconsciously carry on unforgiving behavior. Our staff members attempt to instruct these families that through the act of forgiving, we can put an end to the cycle of hurting behavior caused and maintained by previous generations of the family. Each individual is focused on securing permanent housing in the community and becoming self-sufficient. Safety Conferences are held with our new guests to determine what stage they are at when they register.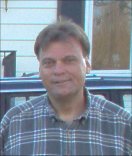 Mark Gunderman

703-367-7410
Home