The unemployment rate for Northern Virginia remains well below the overall U.S. unemployment rate. But are lower wage jobs becoming a larger share of our community's total employment? The skyrocketing cost of living, combined with the apparent loss of higher paying jobs, has positioned many people in a financial dilemma. Surely the surge in population and rising rents in our community have added stress on resources and make it much harder for lower wage earners to make ends meet. Modest income people struggle to pay for housing, groceries, childcare, health care, and education. Imagine the difficulty of choosing between these necessities when limited resources will not cover them all. Our community is in serious need of affordable housing. During the past year, many not for profit organizations have been overwhelmed with calls and inquiries requesting free food, clothes, furniture, shelter, and even job referrals.

Joy Trickett addresses the growing problem regarding homelessness and poverty in our community. Loudoun County's lack of affordable housing and high cost of living mean that many homeless people are actually working full time or have only recently lost their job. Some people move into the county for a better paying job only to find out that they cannot afford housing. Others experience job layoffs, divorce, drug or alcohol abuse or other trauma that leave them with insufficient resources to pay rent. Many come to the Good Shepherd shelter struggling with mental health issues or are veterans with a medical disability.

. Joy Trickett is currently Board Chair for the Good Shepherd Alliance Emergency Homeless Shelters in Sterling, Ashburn, Leesburg and Lucketts.

. Board Member on LINK in Sterling and co-manages the Holiday Food Basket program at Thanksgiving and Christmas.

. A Deaconess at the Dranesville Church of the Brethren in Herndon (est. 1905).

. Member of the Great Falls Ecumenical Council.

After an early retirement as a financial manager for the federal government, Joy Trickett decided to get seriously involved in organizations that give back to the community that she has lived in her entire life. For many hours each week, Joy Trickett volunteers to change the world, one person at a time.

And helping the "have-nots" is something Ms. Trickett knows a great deal about. On any given day, you might find her in the Good Shepherd thrift store in Sterling, working with her staff, or writing a grant proposal with her executive director in Leesburg, or interfacing with other sister organizations like the Clothes Closet, LINK and Loudoun and Herndon Free Clinics. At other times, she's soliciting donations for the homeless shelters or Habitat for Humanity or gathering food to feed the homeless or accepting and coordinating the delivery of a refrigerator, stove or bed.

Or, you may find her intensely involved in one of the LINK (Loudoun Interdenominational Network for 'K'aring) programs, an all-volunteer emergency support organization providing food and financial assistance directly to the homes of people in need. She serves on the board of directors for both organizations, and on the ecumenical council of her church, a job she refers to as "my passion." Joy believes we all have an inherent responsibility to service the poor and needy. She is an energetic, God loving women who leads by example. It is impossible to say no to Joy. There is something electrifying about her. She is all about love. People know she is the real deal.

Trickett perceives volunteering as something she needs to do. "It is very scriptural," says Trickett. "We are supposed to help those who struggle to help themselves." In these demanding times, Trickett sees the great need for helping others. She asks that each of us grow closer to the biggest of Our Lord's call, to give freely of our love, and compassion to our brothers and sisters in need. She takes great pleasure in witnessing young people volunteer and always asks to know their age and where they go to school or if she knows their parents. Joy Trickett has her finger on the pulse of our community and understands the needs of the working poor. Ms. Tricketts' favorite scripture: Jesus said, "For I was hungry and you gave me something to eat, I was thirsty and you gave me something to drink, I was a stranger and you invited me in" Matthew 25:35.

If you are interested in obtaining more information about Joy and the range and depth of her work, please contact her at cell # 703-887-5772.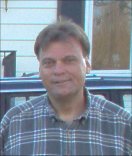 Mark Gunderman

703-367-7410

Home