The links to the right for the most part are either features or navigation for the story. Look to the right for some examples. The Day Logs give you the ability to read the story like a book. In this example we must be reading Day 12 because the previous page is Day 11 and the next page is Day 13. Some of the other sites involved may use Chapters.

Below the Day Logs is a link to a Nuclear Time-Line that tells you various nuclear disasters and the such that occurred on the day you are reading. Post Cards are pictures of post cards that we have received from folks in the communities we walked through. There are six International Peace Pilgrims on the walk. Jeff McKenzie is one of these pilgrims. This is a link to Jeff's information that he reported on the day you are reading. The walkers as well may post their own personal stories so you may see some links to their postings. These are called Voices.

Some of the other links are Community Responses that are hand writen into a diary like book that one of the walkers is maintaining. Lastly there are the Echoes. These are links to past actions performed by participants in this walk. A reminder of the past that provides spirit to the walkers and runners just as this site will do for these participants years from now.

Click a few and see what happens.
Day Logs

Day 11
Day 13
Nuclear Time-Line
Post Cards
From Jeff McKenzie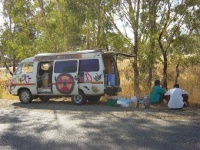 Echoes